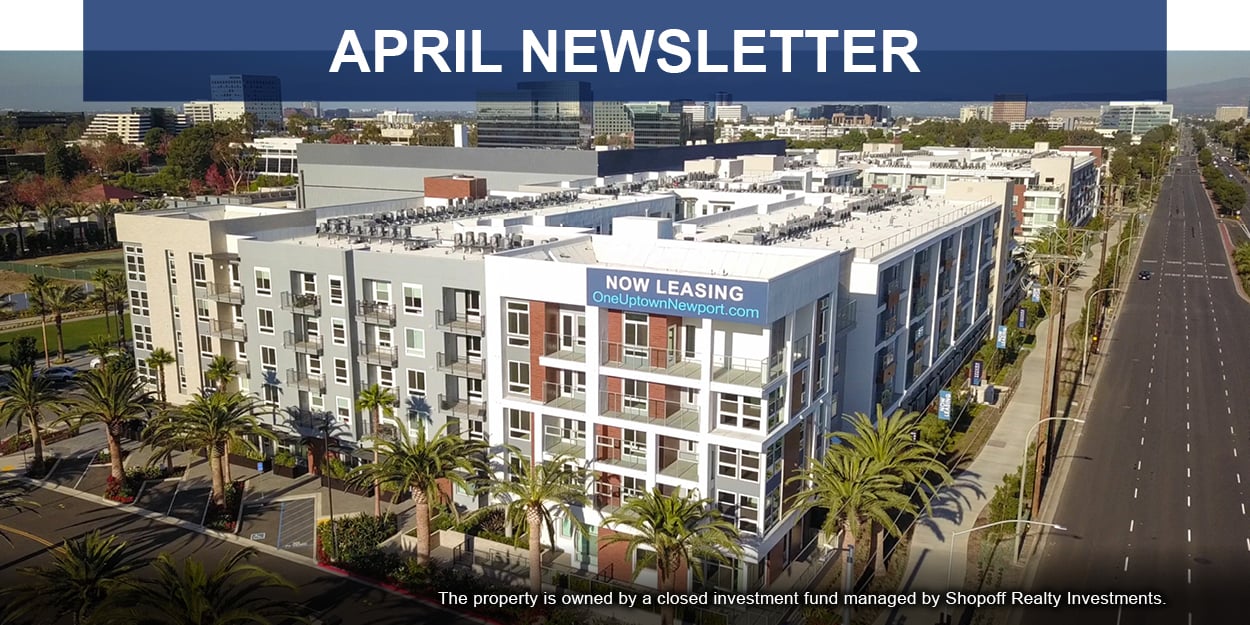 | | |
| --- | --- |
| | SHOPOFF IN THE NEWS |
Shopoff Sponsors Fountain Valley Chamber of Commerce Business and Leadership Awards






April 25, 2023
Read More →

Shopoff's Terri Hovdestad Speaking at University Career Day








April 21, 2023
Read More →

Shopoff Realty Investments Submits Proposal for Mixed-Use Redevelopment of Westminster Mall, Unveiling Plans for "Bolsa Pacific at Westminster"




April 19, 2023
Read More →
Orange County Register: 1,529 Homes Proposed for Westminster, Aliso Viejo Shopping Centers*






April 19, 2023
Read More →

Shopoff Realty Investments: Stoneridge Mall Nordstrom Acquisition







April 18, 2023
Watch Now →

Shopoff Realty Investments | Working
with Communities







April 7, 2023
Watch Now →
These links are being provided as a convenience and for informational purposes only; Shopoff Realty Investments bears no responsibility for accuracy, legality or content of the external site or for that of subsequent links. Contact the external site for answers to questions regarding its content.

*Please note that the pictures included in the article are of architectural renderings and the design is subject to change.
| | |
| --- | --- |
| | PROJECT HIGHLIGHT |
Property pictured above is a project that is being managed by Shopoff Realty Investments, and is a holding of a Shopoff fund.

THE PINES AT FULLERTON

Shopoff recently secured entitlements for The Pines at Fullerton, which includes 49 detached single-family homes, and 64 townhome units. In addition, there are three commercial parcels on the property totaling 2.59 acres. The property is located in the prestigious Sunny Hills neighborhood in Fullerton, California. The newly developed homes will replace an aging and largely vacant retail center on the corner of Rosecrans Avenue and North Euclid St.
| | |
| --- | --- |
| | EVENTS & HAPPENINGS |
| | | |
| --- | --- | --- |
| On Friday, April 21, Shopoff Realty Investments' Blair Ruffner, senior development manager, Terri Hovdestad, senior vice president of transaction management, and George Bahbah, junior financial analyst, attended the Fountain Valley Chamber of Commerce's Business & Leadership Awards. | | |
| | |
| --- | --- |
| | SHOPOFF SPOTLIGHT |
| | | |
| --- | --- | --- |
| | | Stephen Logan is Shopoff's senior vice president, urban development, overseeing the Company's urban infill redevelopment projects. With more than 25 years of commercial real estate experience, hear more about Stephen's journey, role at Shopoff, and his advice for the next generation of real estate professionals. |
| | |
| --- | --- |
| | |
The information contained herein is for informational purposes only and is not, and shall not constitute investment advice, tax or legal advice. It is important to disclose that this newsletter includes links to an external source. The content you are about to view is produced by third-party sources. Additionally, Shopoff Realty Investments, L.P. and its affiliates are not responsible for the administration of the terms of use, privacy policies or security policies of any external source. Certain statements contained herein may constitute "forward looking statements." Any such statements, performance projections and results have been based upon assumptions, some of which will vary, perhaps materially, from actual events and do not constitute a prediction or representation as to actual performance. This is neither an offer to sell nor a solicitation of an offer to buy any security. Such an offer may only be made by means of an offering document that must accompany or precede this information. All investments have risk including loss of investment. An investment in a Shopoff fund involves a high degree of risk, including the possible loss of your investment, and is illiquid with an uncertain liquidity date. This communication has not been approved or disapproved by the U.S. Securities and Exchange Commission (the "SEC") or the securities regulatory authority of any state, nor has the SEC or any security regulatory authority of any statement passed upon the accuracy or adequacy of statements in this communication. Any representation to the contrary is a criminal offense. Past performance and/or forward-looking statements are not an assurance of future results. Securities offered through Shopoff Securities, Inc. Member FINRA/SIPC.
Shopoff Realty Investments | 18565 Jamboree Road, Suite 200, Irvine, CA 92612
844-4-SHOPOFF | shopoff.com