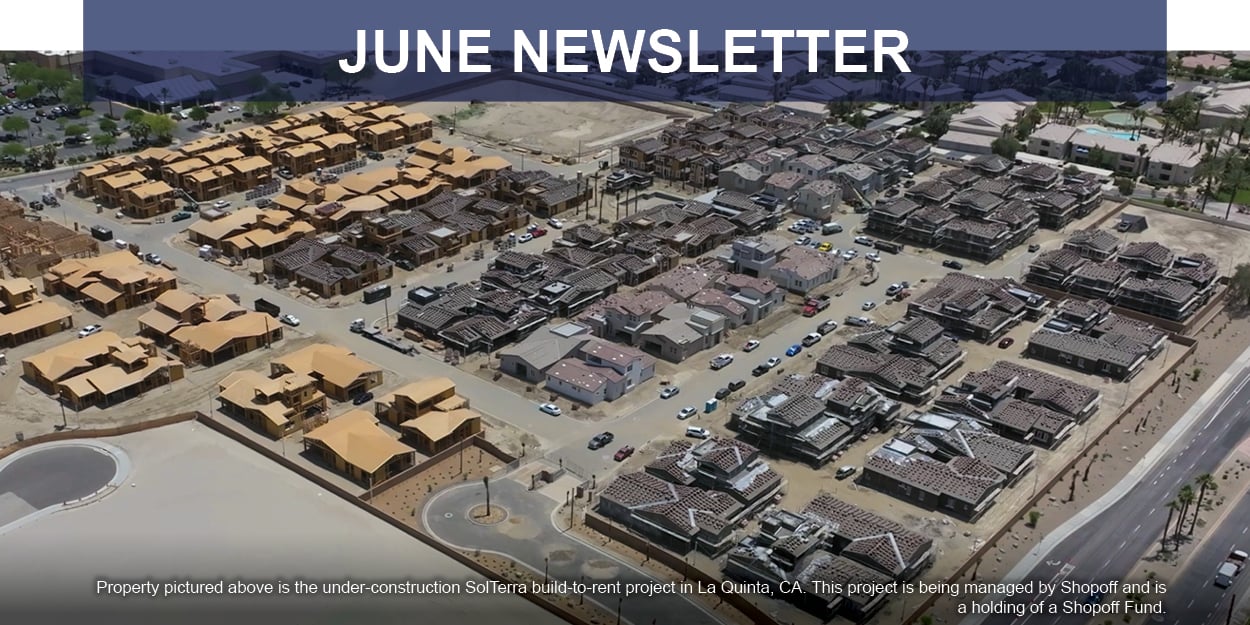 | | |
| --- | --- |
| | SHOPOFF IN THE NEWS |
Shopoff Realty Investments' The Block on Elliot Industrial Project Secures Unanimous City Council Approval




June 29, 2023
Read More →

Orange County Register: Malls becoming homes a 'jigsaw puzzle of moving parts,' California developer says



June 15, 2023
Read More →

The Registry: Bill Shopoff, CEO of Shopoff Realty Investments*






June 12, 2023
Listen Now →
Sacramento Business Journals: Pre-application calls for redeveloping former Sacramento Bee site into more than 500 apartments



June 8, 2023
Read More →

Real Estate Capital USA: New Templates with Bill Shopoff







June 8, 2023
Read More →

The Orange County Tribune: The man behind Bolsa Pacific







June 6, 2023
Read More →
These links are being provided as a convenience and for informational purposes only; Shopoff Realty Investments bears no responsibility for accuracy, legality or content of the external site or for that of subsequent links. Contact the external site for answers to questions regarding its content.

*The content presented in this podcast is intended to be educational and informative. It is not intended as financial, investment, or legal advice. The discussions and opinions expressed are solely those of the hosts and guests. It is important to conduct your own research and consult with qualified professionals before making any financial or real estate-related decisions.
| | |
| --- | --- |
| | PROJECT HIGHLIGHT |

Property pictured above is a project that is being managed by Shopoff Realty Investments, and is a holding of a Shopoff fund.
Shopoff Realty Investments purchased this 54-acre industrial site located in the greater Phoenix City of Buckeye, Arizona, in November 2021. Located just minutes from Interstate 10 and State Route 85, the property is ideally suited for industrial use, and benefits from access to the Union Pacific Railroad. The site was pre-zoned to light industrial and approved by the City. Subsequently Shopoff submitted an application to annex the property into the City of Buckeye, and that was approved by the city council in February 2023. This approval allows the site usage of city services, such as sewer, water and more. The current site plan for the property includes two industrial buildings, totaling approximately 868,000 square feet. Shopoff recently received multiple offers to purchase the property and has selected a buyer with a closing later this year.
| | |
| --- | --- |
| | EVENTS & HAPPENINGS |
| | | |
| --- | --- | --- |
| Bill Shopoff spoke at the National Association of Real Estate Editors' (NAREE) Annual Conference earlier this month in Las Vegas. The conference discussions combined economic forecasts, journalism, and real estate industry trends, featuring speakers from various real estate companies and news organizations. Alongside fellow developers, Bill joined the panel "Metamorphosis: Creating New Spaces in Old Places," where they discussed adaptive reuse and its long- and short-term benefits. Thank you, NAREE, for having us! | | |
| | |
| --- | --- |
| | SHOPOFF SPOTLIGHT |
| | | |
| --- | --- | --- |
| | | Jo Merriman is senior vice president of operations and investment services. Hear more about Jo's role with Shopoff and what she loves about working for the firm. |
| | |
| --- | --- |
| | |
The information contained herein is for informational purposes only and is not, and shall not constitute investment advice, tax or legal advice. It is important to disclose that this newsletter includes links to an external source. The content you are about to view is produced by third-party sources. Additionally, Shopoff Realty Investments, L.P. and its affiliates are not responsible for the administration of the terms of use, privacy policies or security policies of any external source. Certain statements contained herein may constitute "forward looking statements." Any such statements, performance projections and results have been based upon assumptions, some of which will vary, perhaps materially, from actual events and do not constitute a prediction or representation as to actual performance. This is neither an offer to sell nor a solicitation of an offer to buy any security. Such an offer may only be made by means of an offering document that must accompany or precede this information. All investments have risk including loss of investment. An investment in a Shopoff fund involves a high degree of risk, including the possible loss of your investment, and is illiquid with an uncertain liquidity date. This communication has not been approved or disapproved by the U.S. Securities and Exchange Commission (the "SEC") or the securities regulatory authority of any state, nor has the SEC or any security regulatory authority of any statement passed upon the accuracy or adequacy of statements in this communication. Any representation to the contrary is a criminal offense. Past performance and/or forward-looking statements are not an assurance of future results. Securities offered through Shopoff Securities, Inc. Member FINRA/SIPC.
Shopoff Realty Investments | 18565 Jamboree Road, Suite 200, Irvine, CA 92612
844-4-SHOPOFF | shopoff.com