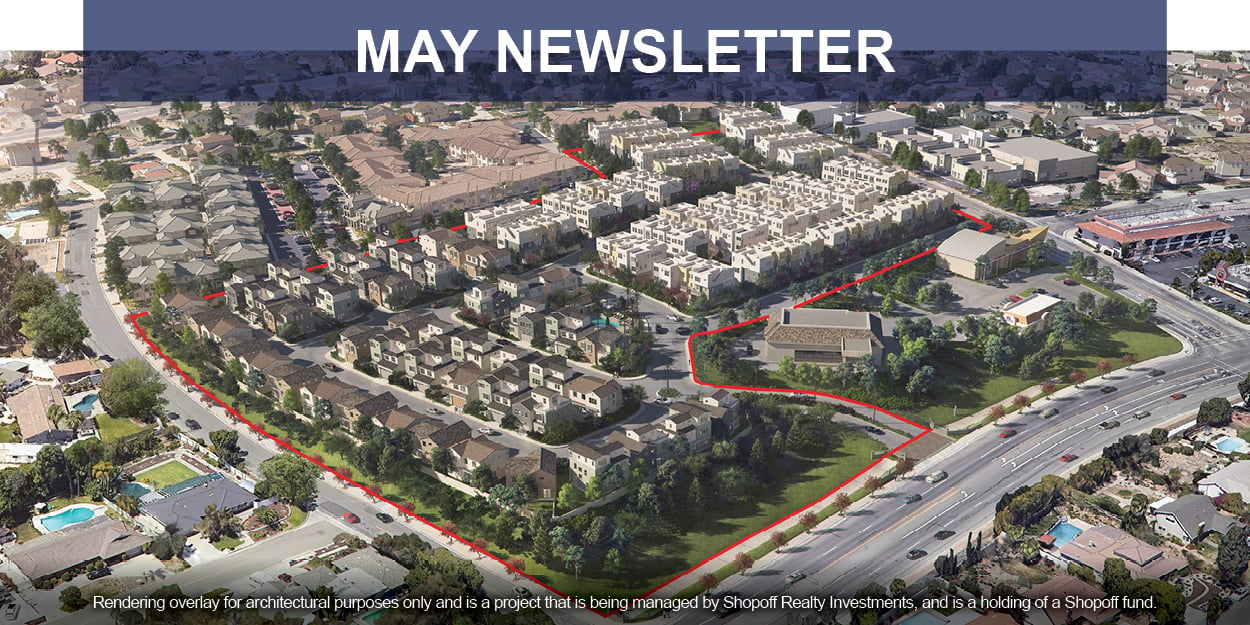 | | |
| --- | --- |
| | SHOPOFF IN THE NEWS |
The Real Deal: Reinventing the American Mall With Bill Shopoff*






May 15, 2023
Listen Now →

Orange County Business Journal: Office Sector in
Flux - Steep Discounts for Hi-Rise Buildings


May 15, 2023
Read More →

Shopoff's Bill Smith Speaks at HD Expo in Las Vegas







May 2, 2023
Read Now →
Orange County Business Journal: $500M Mall Bet







May 1, 2023
Read Now →

Bill Shopoff Speaking at Bisnow OC State of the Market







June 6, 2023
Read More →

Shopoff Supports Annual AIDS LifeCycle Event







June 4 - 10, 2023
Read More →
These links are being provided as a convenience and for informational purposes only; Shopoff Realty Investments bears no responsibility for accuracy, legality or content of the external site or for that of subsequent links. Contact the external site for answers to questions regarding its content.

*The content presented in this podcast is intended to be educational and informative. It is not intended as financial, investment, or legal advice. The discussions and opinions expressed are solely those of the hosts and guests. It is important to conduct your own research and consult with qualified professionals before making any financial or real estate-related decisions.
| | |
| --- | --- |
| | PROJECT HIGHLIGHT |
Rendering overlay for architectural purposes only and is a project that is being managed by Shopoff Realty Investments, and is a holding of a Shopoff fund.

SOLTERRA LUXURY RENTAL HOMES

Set on 22 acres in La Quinta, California, SolTerra Luxury Rental Homes is a collection of 131 single-family rental units, including a resort-style pool, fitness center, club house, as well as other on-site amenities. Surrounded by high quality developments including the La Quinta Resort & Club, the Rancho La Quinta Golf Club and Lake La Quinta, as well as numerous restaurants and shopping venues, these homes are ideal for snowbirds and families alike. Construction is well underway on the project with the first units available for rent in July. Learn more at liveatsolterralq.com.
| | |
| --- | --- |
| | EVENTS & HAPPENINGS |
| | | |
| --- | --- | --- |
| Shopoff sponsored the McKenna Claire Foundation's 13th Annual Party With A Purpose, Night at the Derby, on May 13th in Huntington Beach, California. Shopoff's Terri Hovdestad attended with her husband, and they are pictured here with Huntington Beach Mayor Tony Strickland. The event raised funds for pediatric brain cancer research and highlights the ongoing work being done for the benefit of children and families who continue to fight the pediatric brain cancer battle. We are grateful Shopoff could support such a worthy cause! | | |
| | |
| --- | --- |
| | SHOPOFF SPOTLIGHT |
| | | |
| --- | --- | --- |
| | | Monica Chavez is executive assistant to Cindy Shopoff, Shopoff's EVP of operations and co-owner. Monica has been with the firm for more than seven years, becoming an invaluable part of Shopoff's administrative team. Hear more about Monica, as well as her first day at the firm that set the tone for her tenure. |
| | |
| --- | --- |
| | |
The information contained herein is for informational purposes only and is not, and shall not constitute investment advice, tax or legal advice. It is important to disclose that this newsletter includes links to an external source. The content you are about to view is produced by third-party sources. Additionally, Shopoff Realty Investments, L.P. and its affiliates are not responsible for the administration of the terms of use, privacy policies or security policies of any external source. Certain statements contained herein may constitute "forward looking statements." Any such statements, performance projections and results have been based upon assumptions, some of which will vary, perhaps materially, from actual events and do not constitute a prediction or representation as to actual performance. This is neither an offer to sell nor a solicitation of an offer to buy any security. Such an offer may only be made by means of an offering document that must accompany or precede this information. All investments have risk including loss of investment. An investment in a Shopoff fund involves a high degree of risk, including the possible loss of your investment, and is illiquid with an uncertain liquidity date. This communication has not been approved or disapproved by the U.S. Securities and Exchange Commission (the "SEC") or the securities regulatory authority of any state, nor has the SEC or any security regulatory authority of any statement passed upon the accuracy or adequacy of statements in this communication. Any representation to the contrary is a criminal offense. Past performance and/or forward-looking statements are not an assurance of future results. Securities offered through Shopoff Securities, Inc. Member FINRA/SIPC.
Shopoff Realty Investments | 18565 Jamboree Road, Suite 200, Irvine, CA 92612
844-4-SHOPOFF | shopoff.com