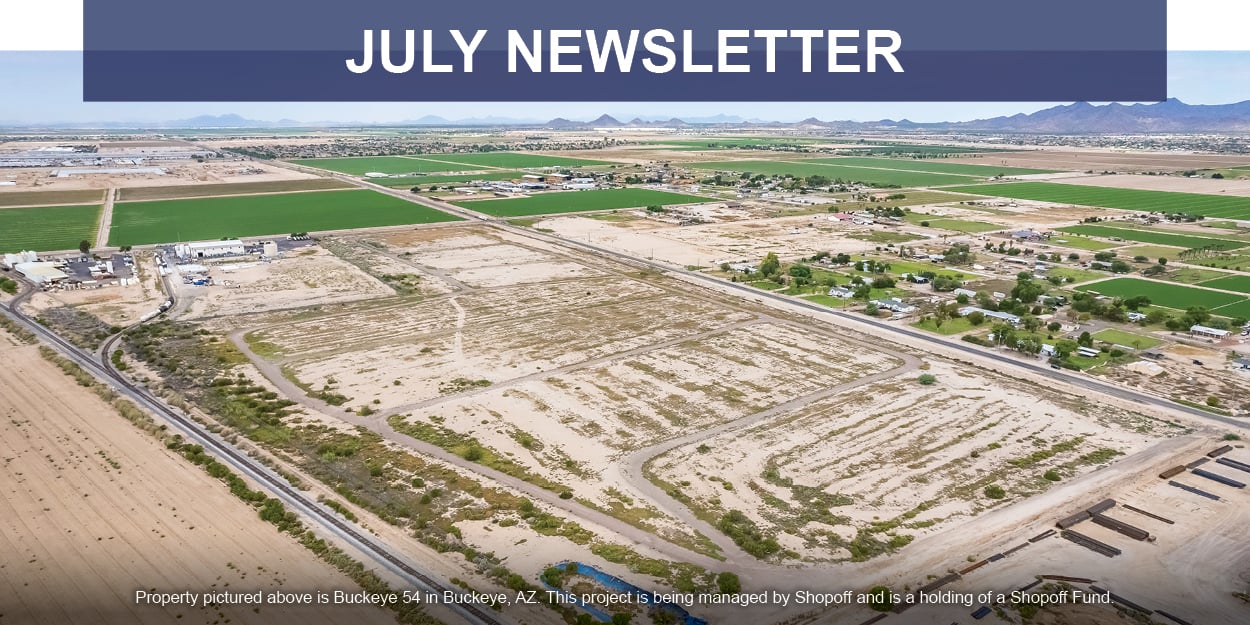 | | |
| --- | --- |
| | SHOPOFF IN THE NEWS |
The Registry: Shopoff Realty Investments and Urban Pacific Create Joint Venture Partnership to Develop Urban Town Homes




July 13, 2023
Read More →

The DI Wire: Shopoff's Latest Single-Family Rental Homes Development Begins Pre-Leasing






July 12, 2023
Read More →

L.A. Business Journal: Shopoff Realty Investments and Urban Pacific partner on build-to-rent 'urban town homes'




July 11, 2023
Read More →
Shopoff Realty Investments and Urban Pacific Create Joint Venture Partnership to Develop Urban Town Homes




July 11, 2023
Read More →

AZ Big Media: Mesa City Council Approves Massive The Block on Elliot Project







July 7, 2023
Read More →

Newly Constructed Solterra Luxury Rental Homes Now Pre-Leasing for Summer Move-Ins






July 6, 2023
Read More →
These links are being provided as a convenience and for informational purposes only; Shopoff Realty Investments bears no responsibility for accuracy, legality or content of the external site or for that of subsequent links. Contact the external site for answers to questions regarding its content.
| | |
| --- | --- |
| | PROJECT HIGHLIGHT |
THE BLOCK ON ELLIOT - MESA, AZ
Property pictured above is a project that is being managed by Shopoff Realty Investments, and is a holding of a Shopoff fund.
Shopoff recently secured unanimous city council approval for its 270-acre "The Block on Elliot" industrial mixed-use development project in Mesa, Arizona. Approvals included a zone change, a development agreement, and annexation of the property into the City of Mesa. The project includes 12 to 15 buildings, with up to 4.1 million leasable square feet, and an average building size of 500,000 square feet. The Block on Elliot is set to be a premiere master development in the north Phoenix-Mesa Gateway submarket. Potential development plans include state of the art manufacturing facilities, as well as amenities to accommodate shared office/conference rooms for tenants, and fast casual dining options for businesses who locate within the project. The property is well-positioned for manufacturing use, located approximately one mile from the Phoenix-Mesa Gateway Airport, and within Loop 202, which connects the East and West Phoenix Valley and provides ease of transportation across the Phoenix metro. Shopoff is currently marketing the property for sale, with CBRE brokers Jackie Orcutt and Pete Wentis representing the property on behalf of Shopoff. For more information visit: theblockonelliotaz.com.
| | |
| --- | --- |
| | EVENTS & HAPPENINGS |
Shopoff was voted and awarded 2023 North Orange County Chamber of Commerce Member of the Year. Thank you to the chamber for such a fantastic honor.
| | |
| --- | --- |
| | SHOPOFF SPOTLIGHT |
| | | |
| --- | --- | --- |
| | | George Bahbah is a junior financial analyst with Shopoff. Hear more about George's journey from intern to employee in this month's Shopoff Spotlight. |
| | |
| --- | --- |
| | |
The information contained herein is for informational purposes only and is not, and shall not constitute investment advice, tax or legal advice. It is important to disclose that this newsletter includes links to an external source. The content you are about to view is produced by third-party sources. Additionally, Shopoff Realty Investments, L.P. and its affiliates are not responsible for the administration of the terms of use, privacy policies or security policies of any external source. Certain statements contained herein may constitute "forward looking statements." Any such statements, performance projections and results have been based upon assumptions, some of which will vary, perhaps materially, from actual events and do not constitute a prediction or representation as to actual performance. This is neither an offer to sell nor a solicitation of an offer to buy any security. Such an offer may only be made by means of an offering document that must accompany or precede this information. All investments have risk including loss of investment. An investment in a Shopoff fund involves a high degree of risk, including the possible loss of your investment, and is illiquid with an uncertain liquidity date. This communication has not been approved or disapproved by the U.S. Securities and Exchange Commission (the "SEC") or the securities regulatory authority of any state, nor has the SEC or any security regulatory authority of any statement passed upon the accuracy or adequacy of statements in this communication. Any representation to the contrary is a criminal offense. Past performance and/or forward-looking statements are not an assurance of future results. Securities offered through Shopoff Securities, Inc. Member FINRA/SIPC.
Shopoff Realty Investments | 18565 Jamboree Road, Suite 200, Irvine, CA 92612
844-4-SHOPOFF | shopoff.com