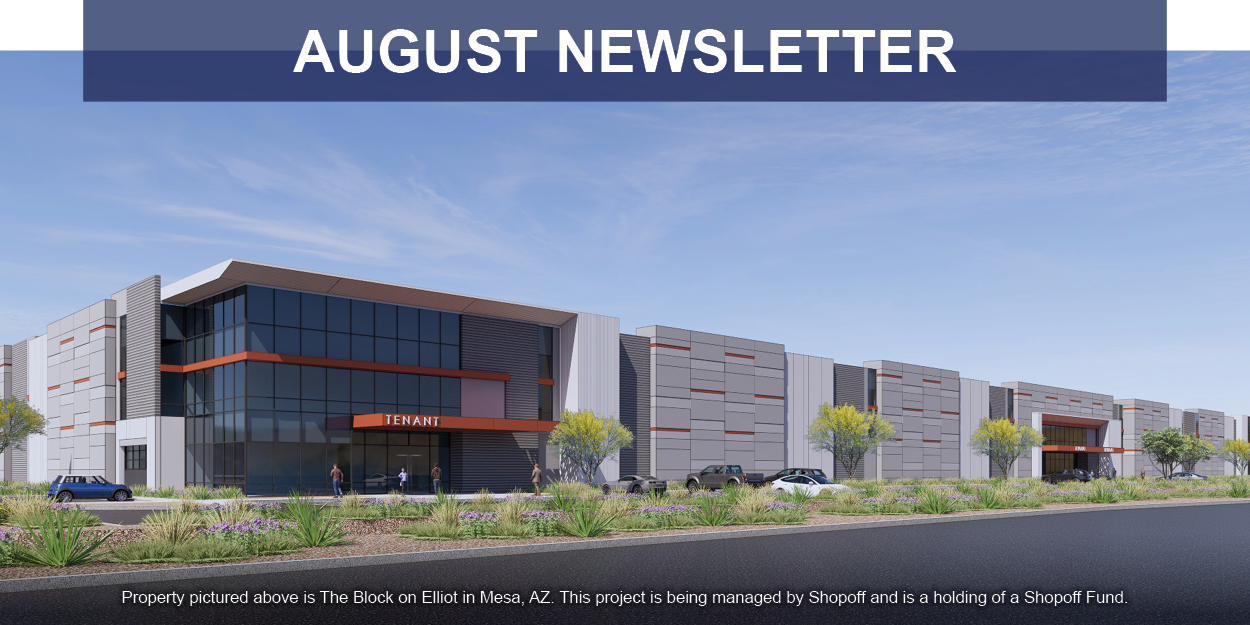 | | |
| --- | --- |
| | SHOPOFF IN THE NEWS |
Shopoff's Brian Rupp Speaks At Bisnow's OC Multifamily Conference








August 23, 2023
Read More →

Shopoff Team Supports the California Homebuilding Foundation's Benefit Concert






August 17, 2023
Read More →

Business Journal: Coon Rapids Warehouse Site Gets New Owner for $18.7 Million







August 16, 2023
Read More →
Best Attractions: Westminster Mall in Westminster, CA: From Shopping Center to Dream
Community




August 15, 2023
Read More →

Business Journal: Shopoff Realty Investments Submits 48-Townhome Project Proposal for Former Bee Parking Lot






August 8, 2023
Read More →

Bill Shopoff Speaks on Little Saigon TV Network









August 8, 2023
Watch Now →
These links are being provided as a convenience and for informational purposes only; Shopoff Realty Investments bears no responsibility for accuracy, legality or content of the external site or for that of subsequent links. Contact the external site for answers to questions regarding its content.
| | |
| --- | --- |
| | PROJECT HIGHLIGHT |
Property pictured above is the Sacramento Bee in Sacramento, CA. This project is being managed by Shopoff and is a holding of a Shopoff Fund.
The Sacramento Bee property is an office and production facility in the Midtown submarket of Sacramento, California. The property was purchased from The McClatchy Company in a sale-lease back in 2017. The Sacramento Bee lease provided stabilized cash flow to the property during the first years of the hold period while the property was repositioned for sale. After McClatchy vacated the property in 2021, Shopoff began marketing the various property components for sale. To date, Shopoff has sold the daycare building, fleet building, cell tower, a parking easement, as well as a parcel on the corner of 21st and Q street. The remaining property includes the main printing press building and parking lots, which is 9.2 gross acres. Shopoff is in the process of entitling the remaining property for approximately 530 multifamily residential units and 45 to 50 townhomes, with applications for both developments submitted to the City of Sacramento in June 2023.
| | |
| --- | --- |
| | EVENTS & HAPPENINGS |
Shopoff held its annual summer happy hour on August 9. Employees embraced the sports theme with their favorite jerseys, food, drinks, and games. A real win of an afternoon!
| | |
| --- | --- |
| | SHOPOFF SPOTLIGHT |
| | | |
| --- | --- | --- |
| | | Scott Scherer is Shopoff's senior regional vice president, western division. Scott works with financial professionals through our wholesale distribution division to support Shopoff's investment opportunities. Learn more about Scott and what keeps him excited about his role with the firm in this month's Shopoff Spotlight! |
| | |
| --- | --- |
| | |
The information contained herein is for informational purposes only and is not, and shall not constitute investment advice, tax or legal advice. It is important to disclose that this newsletter includes links to an external source. The content you are about to view is produced by third-party sources. Additionally, Shopoff Realty Investments, L.P. and its affiliates are not responsible for the administration of the terms of use, privacy policies or security policies of any external source. Certain statements contained herein may constitute "forward looking statements." Any such statements, performance projections and results have been based upon assumptions, some of which will vary, perhaps materially, from actual events and do not constitute a prediction or representation as to actual performance. This is neither an offer to sell nor a solicitation of an offer to buy any security. Such an offer may only be made by means of an offering document that must accompany or precede this information. All investments have risk including loss of investment. An investment in a Shopoff fund involves a high degree of risk, including the possible loss of your investment, and is illiquid with an uncertain liquidity date. This communication has not been approved or disapproved by the U.S. Securities and Exchange Commission (the "SEC") or the securities regulatory authority of any state, nor has the SEC or any security regulatory authority of any statement passed upon the accuracy or adequacy of statements in this communication. Any representation to the contrary is a criminal offense. Past performance and/or forward-looking statements are not an assurance of future results. Securities offered through Shopoff Securities, Inc. Member FINRA/SIPC.
Shopoff Realty Investments | 18565 Jamboree Road, Suite 200, Irvine, CA 92612
844-4-SHOPOFF | shopoff.com