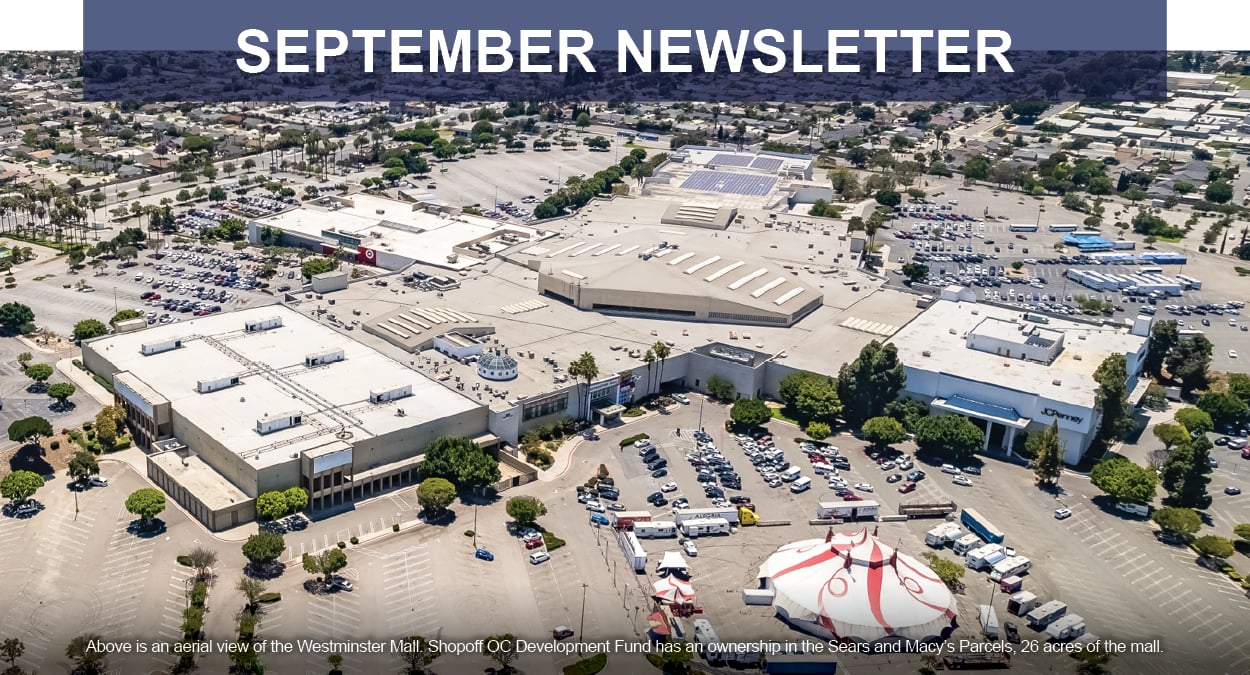 Connect Media: Shopoff Sells Hard Corner of Fullerton Center Due for Redevelopment







September 22, 2023
Read More →

Shopoff Sells Del Taco-Anchored Retail Center in Fullerton








September 21, 2023
Read More →

Shopoff Team Sponsors the Fountain Valley Chamber of Commerce Summer BBQ







September 19, 2023
Read More →
Bill Shopoff speaks at IMN's 10th Annual Build-to-Rent, Land & Homebuilding Forum








September 12, 2023
Read More →

Orange County Business Journal: OC's Retail Sector Transforms, Consolidates







September 11, 2023
Read More →

Shopoff Named As One of the 2023 Best Places to Work









September 1, 2023
Read More →
These links are being provided as a convenience and for informational purposes only; Shopoff Realty Investments bears no responsibility for accuracy, legality or content of the external site or for that of subsequent links. Contact the external site for answers to questions regarding its content.
BOLSA PACIFIC AT WESTMINSTER
Rendering of Bolsa Pacific at Westminster, a 26-acre mixed-use redevelopment.
Shopoff purchased two separate parcels (the Sears and Macy's parcels), totaling 26 acres of the Westminster Mall, in 2022. The first parcel includes a vacant former Sears building and adjacent parking lot, totaling 14.1 acres. The second parcel consists of 11.9 acres which includes a currently operating Macy's department store and adjacent parking lot. Shopoff leased the space back to Macy's for an additional two years plus a one-year option. The aging mall opened in 1974, and is currently anchored by Target, JCPenney, and Macy's.

The Project represents a unique opportunity to acquire a significant site in a high barrier to entry market in coastal Orange County, California. In November 2022, the city of Westminster approved a general plan amendment, Specific Plan and Environmental Impact Report (EIR) for the entire Westminster Mall site, which allows up to 2,550 units on the property. Shopoff is currently working with the city to process entitlements for a mixed-use development we are calling Bolsa Pacific at Westminster.
The Shopoff team had the pleasure of sponsoring the Friendship Shelter's Intersections Luncheon this month. We are proud to support this great cause and appreciate their continued efforts towards bettering our community and helping those in need. To date, the organization has helped more than 10,000 people, focusing on providing year-round shelter and rehabilitation for homeless adults. They provide a full complement of rehabilitative services to those most in need and address the many interrelated problems of homelessness, including mental and physical health, drug and alcohol addiction, personal responsibility, education, and employment opportunity. For more information on this fantastic organization, please visit: FriendshipShelter.org.
| | | |
| --- | --- | --- |
| | | Marilene De Sagun is Shopoff's Corporate Controller. Learn more about her role with the accounting department and life both within and outside of Shopoff in this month's spotlight! |
DO YOU FOLLOW US ON SOCIAL?
The information contained herein is for informational purposes only and is not, and shall not constitute investment advice, tax or legal advice. It is important to disclose that this newsletter includes links to an external source. The content you are about to view is produced by third-party sources. Additionally, Shopoff Realty Investments, L.P. and its affiliates are not responsible for the administration of the terms of use, privacy policies or security policies of any external source. Certain statements contained herein may constitute "forward looking statements." Any such statements, performance projections and results have been based upon assumptions, some of which will vary, perhaps materially, from actual events and do not constitute a prediction or representation as to actual performance. This is neither an offer to sell nor a solicitation of an offer to buy any security. Such an offer may only be made by means of an offering document that must accompany or precede this information. All investments have risk including loss of investment. An investment in a Shopoff fund involves a high degree of risk, including the possible loss of your investment, and is illiquid with an uncertain liquidity date. This communication has not been approved or disapproved by the U.S. Securities and Exchange Commission (the "SEC") or the securities regulatory authority of any state, nor has the SEC or any security regulatory authority of any statement passed upon the accuracy or adequacy of statements in this communication. Any representation to the contrary is a criminal offense. Past performance and/or forward-looking statements are not an assurance of future results. Securities offered through Shopoff Securities, Inc. Member FINRA/SIPC.
Shopoff Realty Investments | 18565 Jamboree Road, Suite 200, Irvine, CA 92612
844-4-SHOPOFF | shopoff.com