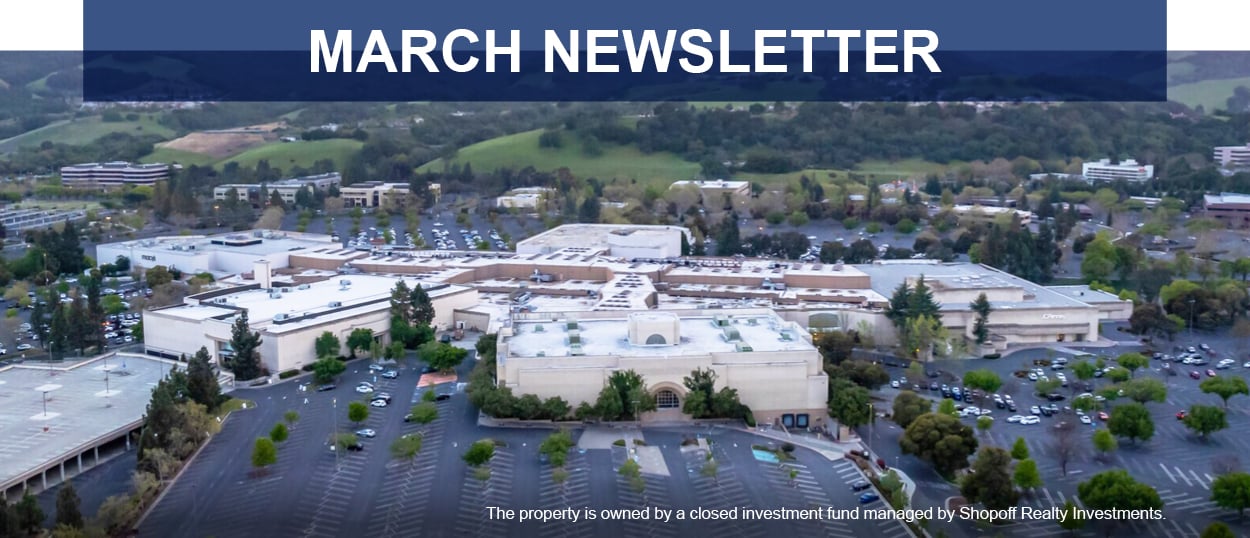 | | |
| --- | --- |
| | SHOPOFF IN THE NEWS |
Orange County Business Journal: William Shopoff Finding Opportunity in 'the Invisible'




March 21, 2023
Read More →

Stephen Logan Speaking on ACRE Redevelopment Panel






March 21, 2023
Read More →

Panelist Brian Rupp at RenTV's OC State of The Market Conference






March 16, 2023
Read More →
Bill Shopoff Receives 2023 Excellence in Entrepreneurship Award






March 14, 2023
Read More →

The Registry: Shopoff Pays $16MM to Acquire Pleasanton Mall Site, Plans Housing and Mixed-Use Redevelopment




March 8, 2023
Read More →

Shopoff Acquires Bay Area Former Nordstrom Building Located At Stoneridge Mall Totaling 8.37 Acres




March 7, 2023
Read More →
These links are being provided as a convenience and for informational purposes only; Shopoff Realty Investments bears no responsibility for accuracy, legality or content of the external site or for that of subsequent links. Contact the external site for answers to questions regarding its content.
| | |
| --- | --- |
| | PROJECT HIGHLIGHT |



Property pictured above is a project that is being managed by Shopoff Realty Investments, and is a holding of a Shopoff fund.

PLEASANTON, FORMER NORDSTROM



Shopoff Realty Investments, Praelium Commercial Real Estate, and an affiliate of Singerman Real Estate, LLC, acquired the former Nordstrom building located at the Stoneridge Mall in Pleasanton, California. The Pleasanton Nordstrom property totals 8.37 acres, including the former department store's parking lot. Shopoff will seek to add value by re-entitling the land, and is exploring a variety of uses for the former retail space, including new housing, office and mixed-use retail.*


*There is no assurance that this strategy will meet its objectives.
| | |
| --- | --- |
| | EVENTS & HAPPENINGS |
| | | |
| --- | --- | --- |
| William A. Shopoff has been honored with the prestigious Excellence in Entrepreneurship Award by premier Orange County business publication, the Orange County Business Journal. | | From Left to Right: Shopoff Realty Investments President and CEO William A. Shopoff receiving the Orange County Business Journal's Excellence in Entrepreneurship Award presented by Falcon Rappaport & Berkman LLP Partner and Chair of Asset Protection Jeffrey M. Verdon. |
| | |
| --- | --- |
| | SHOPOFF SPOTLIGHT |
Q&A with Shopoff Investment Services Manager
Korinna Arellano

Q. Can you give us a brief overview of your responsibilities?
A. I am responsible for the daily operations for each of our firm's various investment offerings. This includes reviewing and processing our subscription documents, as well as the service management of our investors, financial advisors and other financial firms.
Q. How long have you been with Shopoff? What was your first role with the firm?
A. I've been with Shopoff for a little over three years. My first role with the firm was as an investment services associate.
Q. What is your favorite place you've traveled to and why?
A. My favorite place I've traveled to is Puerto Rico. I love the warm, gorgeous beaches and the cuisine. My favorite food in Puerto Rico is actually the pastries! They have wonderful pastries - their flan is delicious, especially the coconut flan, which I highly recommend!
Q. What is your favorite thing about working at Shopoff?
A. My favorite thing about working at Shopoff is that I get to collaborate with all the departments here at our firm, including our real estate, accounting and compliance teams. Every day at Shopoff is different, which makes it really exciting to work here!
Q. Where can we find you on the weekends?
A. On the weekends, you'll find me either watching a movie at the theater or listening to a live band.
| | |
| --- | --- |
| | |
The information contained herein is for informational purposes only and is not, and shall not constitute investment advice, tax or legal advice. It is important to disclose that this newsletter includes links to an external source. The content you are about to view is produced by third-party sources. Additionally, Shopoff Realty Investments, L.P. and its affiliates are not responsible for the administration of the terms of use, privacy policies or security policies of any external source. Certain statements contained herein may constitute "forward looking statements." Any such statements, performance projections and results have been based upon assumptions, some of which will vary, perhaps materially, from actual events and do not constitute a prediction or representation as to actual performance. This is neither an offer to sell nor a solicitation of an offer to buy any security. Such an offer may only be made by means of an offering document that must accompany or precede this information. All investments have risk including loss of investment. An investment in a Shopoff fund involves a high degree of risk, including the possible loss of your investment, and is illiquid with an uncertain liquidity date. This communication has not been approved or disapproved by the U.S. Securities and Exchange Commission (the "SEC") or the securities regulatory authority of any state, nor has the SEC or any security regulatory authority of any statement passed upon the accuracy or adequacy of statements in this communication. Any representation to the contrary is a criminal offense. Past performance and/or forward-looking statements are not an assurance of future results. Securities offered through Shopoff Securities, Inc. Member FINRA/SIPC.
Shopoff Realty Investments | 18565 Jamboree Road, Suite 200, Irvine, CA 92612
844-4-SHOPOFF | shopoff.com